Staff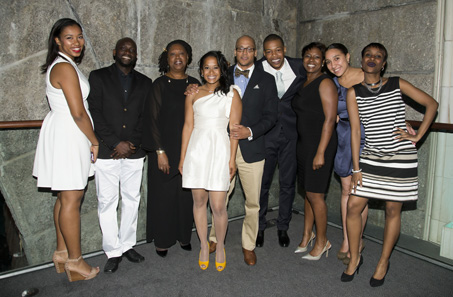 Katrina Adams
Executive Director
Katrina Adams started playing tennis at age 6 in a Chicago parks program. At 16, she was a two-time Illinois High School Association singles champion. Recruited by Northwestern University, she earned the NCAA doubles title there and was twice voted All-American. In 1988 she went professional with the WTA, retiring in 1999 with 20 career doubles titles. Ms. Adams was a USTA national coach from 1999-2002, helping to develop some of the nation's top tennis players. She is currently an analyst for the Tennis Channel and CBS Sports and a spokesperson for the Althea Gibson Foundation.
In 2005, Ms. Adams, a USPTA and PTR certified teaching professional, joined HJTEP and has grown the enrollment to over 1,000 participants and increased the operating budget to $1million. In 2015 she assumed the Chair and Presidency of the USTA National Board. She also serves on the USTA Foundation board.

Daniel Davis
Director of High Performance
Esu Ma'at
Tennis Consultant
Mr. Ma'at is a graduate of our program. Now a USPTA and USTA High Performance-certified teaching professional, he joined our staff in 2002 to ensure effective training of coaches and to develop intermediate and tournament level players. Since 2002, his coaching philosophy has produced over 100 section-ranked, 20 nationally ranked and 24 varsity student athletes on college tennis teams. Mr. Ma'at attended Farleigh Dickinson University on scholarship, where he played #2 Singles for 4 years; the last 2 years he was an All-American. He holds a Masters in Sports Management from Columbia University.

Soyini Ma'at
Education Director
Mikella Matthias
Operations Manager
Ms. Matthias first came to our program as an apprentice focusing on outreach through a USTA Public Allies partnership to advance new leadership and strengthen communities. She became a staff member in 2010. Ms. Matthias manages our day-to-day operations, administration and grants management. She is also responsible for enrollment, communications and tracking and reporting outcomes among our program participants. Her previous experience includes work with the Police Athletic League, Harlem Children's Zone and UNICEF.
Simone Spigner
Assistant Manager of Tennis Programming.
Ms. Spigner, a graduate of HJTEP, is a head coach of entry-level programs for our youngest players. She is a PTR-certified teaching professional with more than 10 years of experience in coaching. She attended South Carolina State University on a 4-year tennis scholarship. Simone was promoted to Assistant Manager of Tennis Programming in 2017.