Educational Initiatives
HJTEP offers players assistance including homework help, tutoring and helping those who want to attend high schools with competitive entrance exams. College counseling begins in the freshman year, with SAT and ACT preparation. We help participants with college selection and applications and offer admissions and financial aid guidance, including scholarship applications.
Tutoring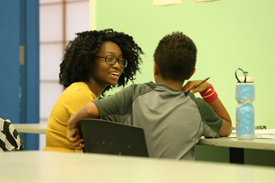 Tutoring takes place on Saturday afternoons. Students receive subject-specific help, as needed, in Math, English, Social Studies, Science and Spanish. Our tutors include Ivy-League graduates and older program participants who excel in a particular subject and can help and inspire younger ones.
ACE Curriculum (Academics, Creative, Engagement)
is offered on Saturdays. This academic and life-skills program for youth ages 8-12 emphasizes health and wellness, social and emotional skills. ACE's interactive activities draw on their interest and participation in tennis by using a
tennis-themed curriculum including reading, puzzles, crafts, games, scientific inquiry, storytelling and writing exercises.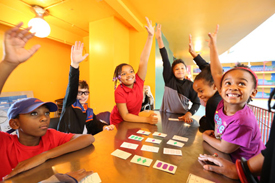 These activities align with English Language Arts and STEM standards as well as 21st century skills of teamwork, innovation and creativity. ACE students show more motivation and participation in school, better attitudes toward learning and improved performance in reading and math.
Bright Learning Academy (BLA)
is a K-12 mobile tutorial program focused on math, science, reading, writing and standardized testing. BLA is offered on Wednesday afternoons and makes excellence achievable and exciting for all students. Its Whole Child Initiative Program, based on 1:1 tutorials, assessments and evaluations in reading, math and learning styles, makes students aware of how their performance measures up and puts them on a path to measurable improvement.
Parents, too, gain insight about how their child learns best.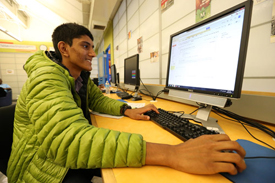 Center Court Enrichment
provides computers and printers for student use. Users become familiar and comfortable with current technology essential for school assignments and the current job market. Here they can research colleges, write school essays and complete college applications. They also learn about spreadsheets, graphics and use educational software.
HJTEP Summer Camp
The student-athletes participate in field trips to leading NYC institutions such as the Studio Museum of Harlem, the Children's Museum of New York and Brooklyn and Intrepid Museums. At times, we go further afield visiting meaningful sites like the International Tennis Hall of Fame in Newport, Rhode Island.