Educational Initiatives
HJTEP Learning Resource Center is Moving Education Forward
At HJTEP, our goal is to offer resources to inspire student agency, support the development of executive functioning skills and offer an environment where excellence in academics and tennis are an achievable reality for all children. We help move the coping needle a little farther every day – ultimately, building individualized success for every child that walks through our door. HJTEP's Learning Resource Center is the hub for our holistic approach to serving the whole child.
Exact Path - Academic Baseline, Targeted Interventions, and Personalized Learning
Students began the 2022-23 school year with continuing gaps in learning and a greater variety of learning needs than many families have had to navigate in the past. The need to focus on growth while balancing on-grade level proficiency is of high importance. HJTEP offers the opportunity for every parent to know where their child stands academically by offering a targeted learning plan to succeed. Using an adaptive diagnostic assessment called Exact Path, our instructors clearly see the specific competencies and skill gaps of every child, regardless of grade level, at the beginning of each school year. This allows our Learning Resource Center to meet students where they are by automatically creating an individualized learning playlist for each child. These assessments evaluate each student's starting points, strengths, and weaknesses to identify the essential building blocks they need in order to achieve their academic success goals.
Private Tutoring Services, in Real Time!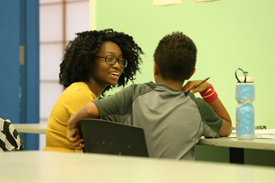 Private tutoring through the Learning Resource Center offers a flexible and personalized alternative to group  classes. Give your child the opportunity to learn one-on-one, at your preferred time, and according to your  child's individual needs. Our experienced educators design custom-made learning plans that address every child's specific learning style, needs, and objectives.  
Inspiring Student Agency
Encouraging student agency involves not only instruction and evaluation but also co-construction. HJTEP recognizes the impact of co-agency. Our Learning Resource Center offers an interactive, mutually supportive relationship with parents, teachers and the community - that help students progress towards their shared goals. In order to exercise agency to the full potential, students need to develop a high level of responsibility and ownership, we inspire this cultivation by building executive functioning.
Advancing Executive Functioning Skills
is the ability to identify goals, implement action towards achieving ones goals while managing them independently…. and if one can't, it's the ability to ask for help without an outside cue. Assisting our students in using their executive functioning skills to set them on a course to achieve their purpose, creates a personal drive to learn, and thus leads them to take individual agency over their own learning. These concepts are developed within our Homework Help and Focus Session programs.
Homework Help
Trying to juggle working from home, child-care, homeschooling, and also additional homework from school?  
The Learning Resource Center provides every child help with homework as needed as well as valuable  interaction with other students in a safe and supervised environment. Our students have a lot to manage and one of the main goals is to get them into bed, on time, by teaching them how to manage their time properly. Students are taught to self advocate and how to seek pinpointed guidance when faced with challenges.
Social Accountability in Action
We are here to encourage, inspire, and support one another to accomplish amazing things. We welcome all 9th - 12th grade students to join us in building this supportive community. Virtual coworking provides accountability exactly when and how you need it to get things done, "in person" on-line with another human being.  Working "side-by-side", remotely - over video, in a  structured 60 minute session.
Social and Emotional Learning
Social and emotional learning allows students to believe in and activate their own potential; build relationships; persist through obstacles; and exercise their academic, social, and professional knowledge and skills. Lead my our resident social worker and mental health counselor students have access to support through group workshops and 1-1 counseling.
Planning for the Future
College and Career Counseling
SAT / ACT Prep
Winward Academy is an award-winning learning  platform developed by Dr. Jennifer Winward, a renowned 20-year veteran of tutoring and a highly regarded instructor at University of California, San Diego. For her academic excellence, passion for teaching, adolescent brain research, and  commitment to education equity.  
"ACT and SAT preparation shouldn't be focused on  beating one 4-hour test; it should be focused on  equipping students with skills and content knowledge that develop a passion for life-long learning, build confidence and contribute to continued professional, and personal success"