Partner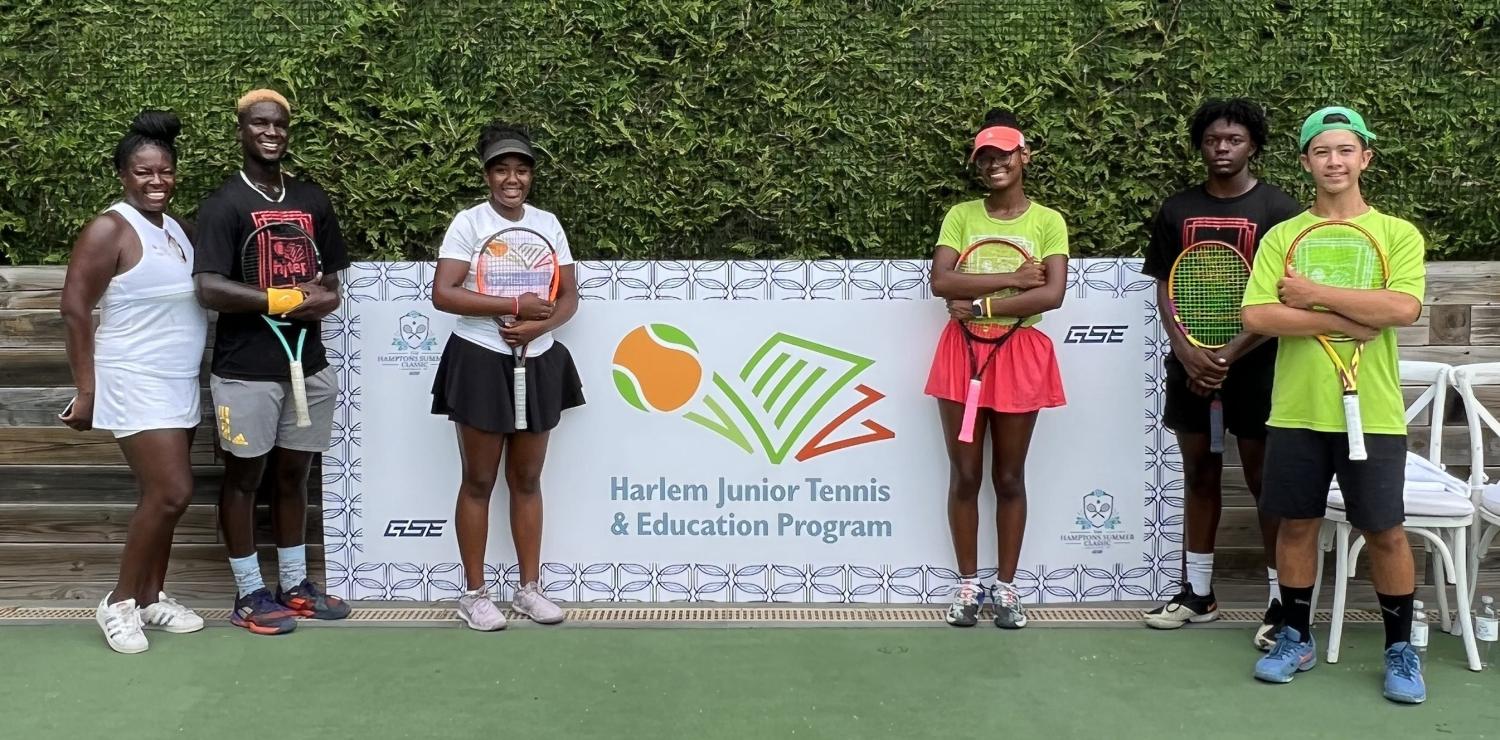 Sponsorship Opportunities
For companies and organizations that seek more targeted impact for their charitable giving, we offer multi-level opportunities to partner with us that leverage your corporate brand with on-site and tournament promotions, product placement, and sampling opportunities, signage, and digital branded company highlight opportunities to HJTEP's network of supporters. Packages can include:
$200,000 Annual Program Sponsor
Tennis Program

Grassroots I & II
Futures
High Performance I & II

Tournament Team
Learning Resource Center

Exact Path Diagnostic Academic Assessments and Custom Learning Playlists
Homework Help, Focus Sessions, Private Tutoring, ACT/SAT Prep, College/Career Counseling
Executive Functioning, Student Agency, HJTEP Alumni Mentorship
Wellness Program - Tennis Against Obesity (TAO), Nutritional Counseling, Meditation & Mindfulness
$50,000 General Operations Support
$25,000 Online Curriculum & Computer Upgrades for the LRC
$20,000 Annual Tournament Team Athlete Sponsor
All HJTEP tennis training, education and wellness programs
Tournament entry fees
Offsets weekly private coaching
Offsets travel expenses for up to 24 tournaments
$15,000 Gear Package
HJTEP will work with any potential partner to customize the perfect sponsorship package that meets your company's affinity to our mission and directly connects your brand to our work with Harlem's youth and the broader community. 
Please consider partnering with HJTEP as we make strategic strides forward into our next 50 years of service with elevated and more vibrant communications that celebrate the pride we have in our partnerships. For more information, please contact Katrina Adams @ 212.491.3738.
Fundraising Events
HJTEP holds various fundraising events over the course of a fiscal year, including our 52nd annual Spring Fundraising Gala (May 13, 2024), 4th Annual HJTEP Golf Outing, fall 2024.  HJTEP USTA-sanctioned tournaments, and additional community tennis events throughout the year. Please consider becoming an event sponsor to help bring our programming to more deserving youth.
Please contact admin@hjtep.org to explore sponsorship opportunities and to learn more about why HJTEP is worthy of your support. Download our Case for Support.
Individual Donors
As with many grassroots, not-for-profit organizations, our financial support has relied heavily on gifts from individual donors. Many of our supporters have been extremely loyal and closely connected to us, by attending our annual events year after year; providing critical year-end gifts; joining the Giving Tuesday movement; and providing monthly congtributions that help stabilize our operation and programs over the course of each year. We are so grateful to all of our individual donors and would not have lasted our first 50 years without their steadfast partnership in all that we do.
Current Partners
Grantors underwrite HJTEP's operating costs, making it possible to hire dedicated and talented coaches and staff, fund court rentals, purchase equipment, and pay tournament fees and travel costs. Some donors choose to Sponsor-a-Student-Athlete.
Grants come from diverse organizations, including:
Clif Bar
Frito Lay
Gatorade
Harlem Children's Zone
Hudson News
Laureus Sport for Good USA
McLaughlin & Stern
Meta
Miranda Family Fund
National Junior Tennis & Learning
New York Urban League
PennPac
Peter Millar
Pepsi
Ralph Pucci
RIA Eyewear
SSP America
Taylor
USTA
USTA Eastern Section
USTA Foundation
Venable Foundation
West Harlem Development Corporation
William C and Joyce C O'Neil Charitable Trust
Wilson
Women's Sports Foundation
X2 Performance
Our Impact
Much more than a tennis program, our blended sports, wellness, and education programs have taught, mentored, and shaped our young student athletes into tennis champions and leaders, ready for the next steps in their unique life journeys. We have been rooted in our Harlem community for over 50 years, holistically serving youth and families.

Our student athletes maintain a GPA of 3.1 on average
95% of our youth graduate from high school and 80% go on to attend college
65% receive non-athletic financial aid and 25% earn tennis scholarships