Wellness
Our goals are to help kids maintain a healthy weight, get good grades in school, enhance self-esteem and develop a lifelong passion for staying healthy. Regular exercise, good nutrition and an attitude of readiness are vital not only in tennis, but in the rest of a young person's life.
All players must participate in cross training sessions prior to the start of each daily tennis session. These sessions are tailored to each program level. The fitness goals are outlined under the Tennis Program descriptions.

Fitness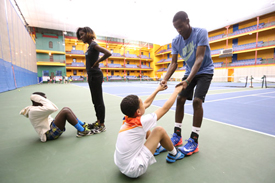 Tennis is the perfect vehicle to teach youth about health issues and the importance and benefits of fitness in their lives. We use the USTA Cardio tennis programs to help students reach personal fitness goals. Regular exercise is part of every player's plan, with running added during the summer. Strength exercises, skill tests and flexibility drills are frequent. Children of all ages do the same exercises, the older ones with more intensity.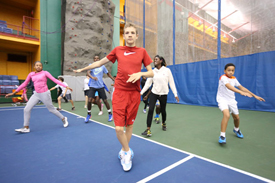 Our fitness goals are targeted to improving balance, coordination and agility.
Well-balanced meals and healthful snacks feed the mind as well as the body and promote academic success. We offer guidance to young people and their parents about what proper nutrition means and the importance of regular, healthy eating habits. The program is especially useful for children who struggle with their health or physical appearance in boosting their self-esteem and confidence.
Discipline
Consistency and discipline are required to maintain an optimal level of fitness. Individual goals are set at the program's start, tracked throughout and reevaluated at its conclusion.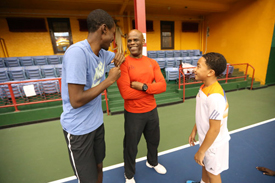 Fun
Our program makes wellness an enjoyable experience. With competitions, tours and tournaments in addition to everyday play, HJTEP strives to make physical fitness fun for our young tennis players. Children look forward to it.